Third and Four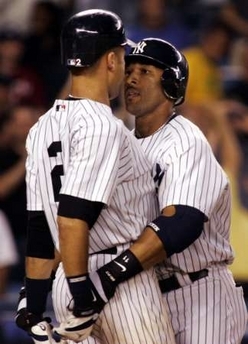 The Orioles made their first smart decision of the offseason today — by default — when they didn't trade for Terrell Gary Sheffield. The mere fact that they had interest pretty much confirms that the team will be no better off in April than they were in September, but still.
Some minor controversy popped up in Madrid over the use of male models as ballboys at the season-ending WTA Championships. According to Elena Dementieva:
"The players are so focused and sometimes they get crazy with the ball boys so they don't know what they will be facing in a couple of days."
I have no idea what the hell she's talking about, but so far it looks like everything is running smoothly. Thank god.
Up the road in York, PA the freshly minted York Revolution unveiled their new logos. While the main logo is weak as hell, they deserve some props for the alternate/cap logo, which for some reason I kind of like.
What intrigues me most about this team is the heavy involvement of Brooks Robinson. I love minor league ball and I'm glad he's doing this, but the fact is that Brooks Robinson should be involved with the Orioles somehow, some way.
Finally, you might have missed it on account of the shit talking, ownership of failed second-rate BBQ restaurants, and overall douchebaggery, but Ray Lewis wants to save your soul. I'm just sayin' — keep it in mind.