Where Have You Gone, Gary Gait?
From the Examiner…Lack of Interest Doomed Bayhawks
Last year was a bad year for Baltimore sports. Maryland was beaten by Manhattan in the NIT, the Ravens looked mildly Oriole-like, and the Orioles made it possible to invent the term "Oriole-like."
However, in 2005, Baltimore's professional lacrosse team, the Bayhawks, won the Major League Lacrosse title, their second in their five-year existence. Despite that, the Bayhawks became a Washington team last week, leaving Maryland with no professional lacrosse team.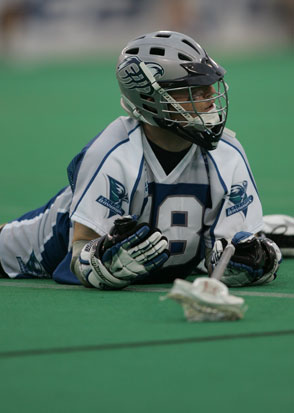 What's up with that? Lacrosse has been so prominent in Baltimore that growing up I thought the rest of the country loved lacrosse as much as Maryland did. All the popular kids played it and I scoffed at them when they took their shiny athletic scholarships to various colleges throughout the country.
It's so deeply embedded in Maryland's culture that it was recently named our state sport. Instead of jousting. Huh.
Lacrosse is one sport that Maryland consistently has going for it. Youth programs are rampant, high school lacrosse is extremely competitive, and Johns Hopkins sets the standard for the college game. Under Armour, the sports gear company that avidly supports lacrosse, is rooted in Maryland. Inside Lacrosse, the only major lacrosse publication, has its home in Maryland. And almost every player in the MLL or the National Lacrosse League has ties to Maryland, whether he grew up, played college lacrosse, or played professional lacrosse in the state.
The Bayhawks were one of the original six MLL teams, and the Baltimore Thunder was one of the original teams to make up the NLL in 1987. That team was shipped to Pittsburgh, then D.C., and now they are the Colorado Mammoth.
Is there a reason they are having more success in Colorado than they did in Baltimore? Despite Maryland's dominance of the sport, average attendance reportedly dropped and that's why the Bayhawks made the move. Perhaps it also had something to do with the fact that their home field is Johnny Unitas Stadium, which isn't bad, but do people take a team that plays on a college campus seriously? Especially a campus with mediocre sports?
Lacrosse is continually expanding past its northeastern roots, and more and more kids are growing up playing it. But if it can't survive at the professional level in its home state, what does that mean for its future?