A 7 Point Program to Heal the Birds
(note: the following comes courtesy of guest contributor Joe Hilseberg. Joe's a graphic designer, a Maryland guy, and a frequent commenter on Uni Watch, where he's always good for some spot-on observations and ideas about uniform design and related matters. Enjoy.)

I read the other day that the Orioles had rescheduled their FanFest for April 1st at the stadium. It will include being able to watch practice, get autographs afterwards, and most importantly…all of the Orioles will be there. It's mandatory. Reading that ticked me off. They SHOULD be doing this EVERY YEAR! It would be a great first step in endearing this team back to the community.
So then I got to thinking some more about other things they can do to bridge the gap that Angelos and the powers that be have created. My specialty, if you will, is sports jerseys and uniforms. I collect them, study them, and critique them quite frequently, so naturally I was thinking of what can be done with the Orioles uniform in particular to help this team connect with its local fan base. Not to mention to just help them look better. So, I came up with a list:
1. The most obvious…put "Baltimore" back on the road jerseys. I don't think I need to go on and on about this one. You all know why it needs to be done. And those of you that don't think it needs to be done will probably not notice it if is done.
2. Go old school. I don't mean all of the time (although I would like that), but maybe all Sunday games are a throwback game. Just like the Brewers, who every weekend sport the old blue and gold with the glove logo. It's a beautiful thing! I'd like to see throwbacks that emulate the 1966 home jerseys, but I think most fans like the 1983 look. Either way I think fans would be happy to see the old threads on the weekends, and that's without even mentioning the marketing possibilities.
3. Retire #44. Sure, they have informed Jay Payton that #44 is not available, but why not make it official? How are we supposed to support a franchise that shows no respect to an individual who was loyal to the organization his whole life?
#44 needs to be in that courtyard.
4. Bring back the Swinging Bird logo and make it a sleeve patch.

This will embrace the past, but just as importantly, that logo has the word "Baltimore" in it. This would be a nice start if they're not putting it back on the jerseys.
As a side note, they need to get the word "Baltimore" back in the logo too, but this is a uniform rant, not a branding one.
5. Get rid of the "O's" hat. I guess it was a nice try to do something different, but it's kind of stupid looking. Not only that, but no other piece of the uniform system uses this logo. I say we forget it ever happened. Like those grey caps they had in the 90's…ugggghhh.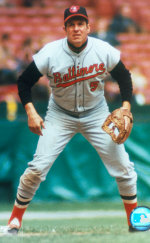 6. Ditch the Black. Not the color black, but the black jersey. It seems like nowadays every team has a black 3rd jersey. It's overkill. As slimming as it may be for us fans, black is not the color that identifies this team. Orange is, so let's make it happen.
7. Show the socks. I'm tired of baseball pants looking like pajama bottoms. Back in the day, the Orioles had some of the best striped stirrups in the league, and it's time to bring them back. The Cardinals and Phillies are already on the bandwagon, and the O's need to lead the way in the AL.
I hope you all agree with my suggestions. I'll probably never see the day that they come true, but I can dream…can't I?