A Plea for Reason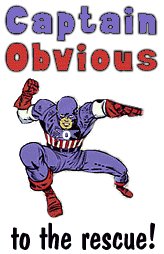 I've got a serious question for what appears to be a troubling majority of Orioles fans out there:
Don't you folks get tired of being obvious?
This team isn't hitting…Jay Gibbons sucks…the bullpen overhaul didn't work! $40 million wasted!…Peter Angelos sure is a terrible owner!
In the context of a larger point these things can make for worthwhile support. Unfortunately, for too many folks these sorts of observations seem to be enough. And, disturbingly, they're often made with something approaching pride.
The team isn't hitting well? You don't say! What? You mean you don't like Peter Angelos? Here I was under the impression that his long record of achievement had endeared him to all but the most hardened baseball observers. Next thing I know someone's going to step up and claim that gas prices are kinda high, and that maybe Oswald didn't act alone.
The readers here, thankfully, are a cut above this (often several cuts). But I'm honestly curious: to what purpose are these same observations repeated, nearly verbatim, over and over again? What, in June of 2007, possesses someone to call a radio show and complain about Peter Angelos?
Yes, the Orioles are struggling. They're hitting .261 as a team with 46 HR among them — numbers that place them far beneath contending status. And yet they remain only five games below .500 and have exhibited several signs of life (the starting pitching, in particular).
Now take a deep breath and ask: is that a whole lot different than what you expected?
The goal for this team all along has been to make a push at .500, maybe finish a few games above that if all goes well. In other words, to make progress. We will have one, maybe two opportunities to judge whether or not that has happened: at the end of the season, and if they go on some titanic streak (like, ten games) one way or the other.
Until then, for the sake of all that is good and holy, try to have a little perspective. This is not football, where one loss represents six percent of your season slipping away. You know what six percent of a 162 game season works out to? Ten games.
Relax. Pop open a cold Miller Lite and put your feet up tonight as Daniel Cabrera takes on Micah Bowie at the Yard. Maybe give this a try.
But whatever you do, recognize that things aren't nearly as bad as they could be, nor as bad as they seem after every two-game losing streak. Just as there are plenty of things to be upset about, there's still plenty to enjoy. That, folks, is baseball.