Conversation Pieces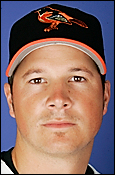 Sorry for the slow-posting week. I've been trying to finish up an article for PressBox and it's been more difficult than I expected. But, hey, it's not like anything happened this week, right?
Heading into the weekend I thought I'd round up a few things and give a bit of analysis, then throw the floor open.
— Chalk up another win for Andy MacPhail in the "making all the right moves so far" category: he's looking to lock up Erik Bedard.
Smart, smart, smart. Find out if you can extend him, make as hard a push as you can, and then get what you can for him if it just isn't going to happen.
— For those of you in the Baltimore area who would like to listen to the Wizards as they struggle early on, you can now do so on WCAO 600 (scroll down).
— This was brought up in the comments earlier and I think it's worth revisiting: what do the Ravens do if Kyle Boller plays well? Do you buy into it and say he turned the corner, or do you stick with the idea that they need to groom someone to become a franchise guy?
— Is it me or does anyone else squirm a little bit when it comes to Roch Kubatko's close relationship with Anita Marks and the Orioles flagship? Roch's job as a Sun reporter is to, well, report. Anita's job as a host on the flagship is (although I doubt she'd admit this) to basically help promote the team. I'm not suggesting that there's anything wrong with Roch (or any other reporter) doing guest radio spots, but I do think that in this case it's become a wee bit too cozy (witness the softball Aubrey Huff interview this week).
— Last but absolutely not least, Terps basketball is finally underway. I haven't said much yet but I have been paying attention. Look for more regular Terps coverage as the season goes on, but in the meantime feel free to post your early season thoughts.