Day Zero (O's – Pink Sox Open Thread)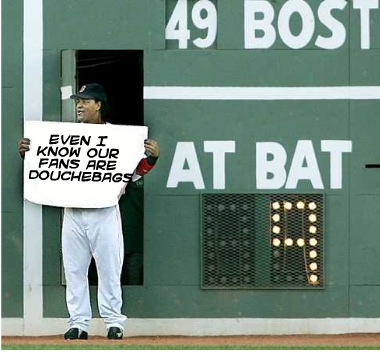 Apparently, there was supposed to be some kind of "rally" at Camden Yards tonight. Some kind of attempt to do something shocking. Something dangerous. What do you suppose it was?
Get ready: the idea was actually to convince Baltimore fans to come out and root for the Baltimore Orioles.
The whole thing started in…I don't know, April was it? And then Pink Sox Nation got wind of it, I got interviewed by the Sun, Pat stopped by with some legendarily stupid comments, and most people generally got the wrong idea.
Everyone wanted a fight. Some kind of confrontation, preferably one tinged with sex and violence and drugs and arrests. But that was never the point. The point was to stand up and say "come on, people, show some pride in your city and your ballpark."
What does it say about Baltimore fans that the reaction I got — and this was before the team completely went in the tank — was about 75% negative? What does it say about Baltimore fans that tonight will be no different than any other Pink Sox night, despite the fact that I gave everyone a perfect opportunity to come to the ballpark and make a point about your team and your city?
Actually, nevermind. Don't answer that. I don't care what it means. All I care about is heading down to the park tonight with a few friends and rooting hard for the O's despite odds so long that the whole thing hardly seems fair.
Because that's what it's all about. And if your hatred of Peter Angelos or the ushers or the "Warehouse" is so strong that you can no longer appreciate that then, well, your loss. See you in spring '08.