Does Miguel Tejada Want Out?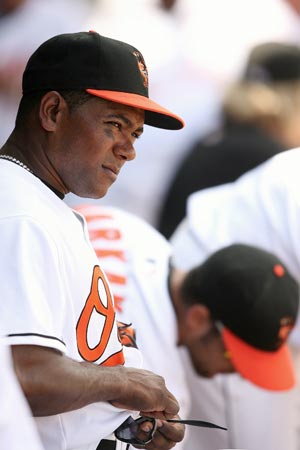 Noted by Dan the Man in the comments, this story from orioles.com and the following nugget about Miguel Tejada:
Trembley said simply that he wanted to let Luis Hernandez play, completely sidestepping a question altogether about Tejada not playing. Tejada, a four-time All-Star, seemed perplexed by the reasoning behind his seat on the bench.

"They feel like they want to give me a day off. I don't know if it's a day off or I'm sitting on the bench," he said. "Then I can go somewhere else next year, [if] they have somebody that can play short. That would be nice for me."

When pressed further, Tejada said that he didn't want a trade — he just wants to play shortstop. Trembley said that it may appear to be a grand shakeup, but that it's really more an opportunity to empty his bench.
Before jumping to any conclusions it's only fair to point out that he did say he wasn't asking for a trade, and you have to feel for the guy given the way this team has crumbled around him. That said, this reinforces my feeling that a change of scenery would be the best thing for all parties involved. He clearly doesn't want to be here, and the two or three good prospects we could probably get for him would likely help us out a lot more in the long run.