Hollow Victories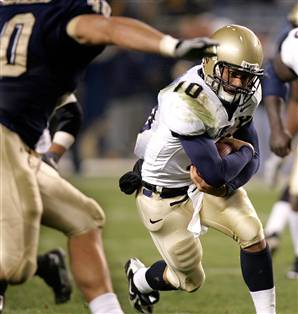 Last night the Navy football team pulled off an impressive upset in beating the Pitt Panthers — in Pittsburgh — 48-45 in double overtime. It was the latest in a string of surprising college football results this year:
Appalachian State over Michigan
Stanford over USC
Kansas State over Texas
Colorado over Oklahoma
Auburn over Florida
It's games like this that drive much of our collective love of sport. They reinforce the belief that on any given day the underdog can come up aces no matter how badly outmanned or outgunned he may be. We need that.
Except there's one small problem: none of these games mattered.
Why? Because college football is the only supposedly-credible sport in America that doesn't use on-field achievement to determine its champion. Instead, they rely on the whim and "expertise" of coaches, journalists, and computers.
The NCAA's refusal to crown a D-1 champion through a playoff system is unconscionable, and nobody has ever made a credible argument to the contrary. You simply cannot find out who the best team is until the champions have been forced to prove themselves against other teams vying for the spot.
Imagine, for a moment, that other sports handled their business the way the NCAA does. You can kiss the Ravens' Super Bowl win goodbye — no poll would have had that team in the BCS "title game." You can boot either the Rockies or Diamondbacks from this year's MLB playoffs — the Mets were a "stronger" team from a "power" division.
George Mason's run? Nope.
One could go on and on like this but it would quickly become silly. Therein lies the reason everyone else has a playoff system.
To deny quality teams and quality players a chance at the championship because they lost one game or played a "weak" schedule tells them that their effort is less valuable than the efforts of, say, a PAC-10 team that had a few more bounces and calls go their way.
On the flip side, none of the teams that have won it can truly look back and say with certaintly, "we were the best that year." The present system cheats and disrespects not only the players who didn't make it, but equally those that did.
It's entirely possible that one of these days Paul Johnson is going to assemble a Navy team with enough talent and chemistry that they could probably manage a win against a USC or a Florida in a championship setting. But we will never, ever get a chance to find out.
It's shameful.