Let's Talk About Millar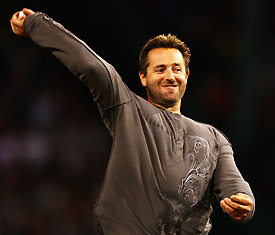 This is supposed to be a dead time for non-playoff baseball teams. No news, no signings, no transactions, no scandals — just radio silence in advance of the hot stove season.
Nobody really thought the Baltimore Orioles would go easy on us, did they?
So along comes big, dumb Kevin Millar and his brilliant idea to relive past glory by digging up the corpse of the Idiots. Cue the fan base firestorm.
I'm right there with those folks who have a…shall we say modified opinion of Millar after this. But let's take a step back here and remember who the real villian is: Kevin Millar.
He made an error in judgment. He failed to recognize the ramifications of his decision, probably because he didn't actually give any thought to the ramifications of his decision. A smarter man would have put out a press release that went something along these lines:
I'm humbled and flattered by the offer I received from the Red Sox. I loved playing there and part of my heart will always be in Boston. With that said, I'm a Baltimore Oriole now and my focus and effort this offseason are dedicated to returning a proud franchise to the winning ways that I know are right around the corner.
PR isn't exactly a science — it's really just understanding your target market and saying the things that will enhance their emotional attachment to whatever it is you're selling. Millar, quite obviously, doesn't get that.
But that's his fault, and he'll pay for it however the fans see fit. The fault does not lie with the Orioles, despite what so many haters want to believe. It's not their place to tell their employees how to spend their free time, and I'm glad they feel that way. Responsibility should lie with the players to do the right things, and until they go hurting people or breaking laws we need to give them that freedom. They're adults, after all.
So take it out on Millar all you want, but don't use this as more fuel for Angelos hatred or MacPhail doubting. That's just more of the same tired thinking that has helped land us where we are.