Looking Ahead to March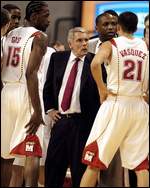 Maryland's losses to both Ohio University and American University — at home — have done great damage to my college basketball excitement. When the Terps are bad it just kills the mood.
Until March Madness, that is, when "which teams made it?" matters a lot less than "which teams should I pick?"
A few thoughts between here and there:
— As bad as Maryland looks, they can erase all of it by steamrolling to a winning record in the ACC. There's nothing right now to suggest they could actually do that, but at least we can keep hope alive.
— UMBC, by contrast, looks fantastic early. They actually managed to beat the same American team that handled Maryland, and right now they're easily the best men's team in the state. Next up, though, is Ohio State. I'm looking simply for a good showing there, a loss by no more than 20.
— Here's a bold prediction: this is the year when we'll finally see a 16 seed upset a 1 seed.
With the way top talent is spread around college ball these days it's bound to happen someday. I've got a hunch this is the year.
Anybody else watching college ball? Who's your team? Who's the mid-major dark horse I need to know about when bracket time comes?