NFL Inquest, Room at the Top Edition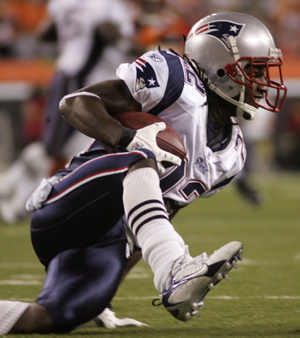 I dig on the NFL as much as anyone, but last night offered up proof positive that it can be just as boring and predictable as any other sport, and that baseball (yes, baseball) can be a hell of a lot more exciting under the right circumstances.
Even if I did fall asleep before the end.
The New England Patriots dismantled the Bengals the same way they've been dismantling everyone else, and it wasn't even fun to watch. It's a performance that leaves little doubt, presently at least, about the Pats' status as the league's elite team.
That, of course, gives rise to "best ever" and "undefeated" talk. "Best ever" is the kind of thing only a moron would claim at this stage, but "undefeated" could be worth a look.
And after review: it's not happening. With 12 games to go they still have to face the Cowboys (road), Redskins (home), Colts (road), Ravens (road), and Steelers (home). Any one of those teams has a chance, and those are just the obvious picks.
Look, the Pats are good. But beating up on the Bengals, Bills, Chargers, and Jets is one thing, while an undefeated season is quite another. They've hardly done enough for anyone to start prattling on about their status among the all-time greats. Give it time.
— With the Steelers' loss to the Cardinals the Ravens and they have now played two common opponents. The Steelers eviscerated the Browns in Cleveland while the Ravens lost there, but the Ravens beat the Cardinals where the Steelers couldn't. You can't read too much into that (yet), but I think it's becoming clear that those Baltimore-Pittsburgh matchups will be huge. First one comes on Monday, November 5th in Pittsburgh.
— The Bengals are now 6-11 in their past 17 games, and Marvin Lewis has reached the "call your players out" stage. It begs the question: is he really that great of a coach? His defenses before Brian Billick got here were average at best, and you know how much it pains me to admit anything that casts Coach Ego in a positive light.
But, really, shouldn't Lewis be better than this?
— I doubt the Browns are for real, but they are 2-2. Still…they're next on the Bill Belichick Hit List, and they'd better get their heads screwed on straight if they want to avoid total embarassment.
— The Skins celebrated their bye week by signing Keenan McCardell, a move designed to add depth on account of the possible absence this Sunday of both Portis and Moss. After what Detroit did to Chicago last week this could be bad news, indeed.