Panasonic Open Wrapup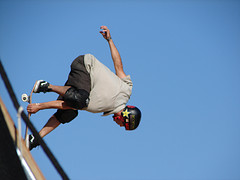 I didn't spend as much time at the Panasonic Open as I would have liked. I only attended on Saturday, and the only event of consequence that I witnessed was the skateboard vert finals. The reason I chose that one event, of course, is tied directly to Dundalk native Bucky Lasek and my recent cover story for PressBox.
Despite my relatively limited exposure I feel safe in saying this: it was one hell of an event. And if you missed it, make a mental note to show up if it returns next year. At $15 for a day pass you'd be hard-pressed to find a better entertainment value.
For those who have no idea what I'm talking about, a little background. The Panasonic was the first stop this year on the AST Dew Tour, a five-event action sports circuit featuring competitions in vert skating, street skating, vert BMX, street BMX, and freestyle motocross (FMX). It took place at the Camden Yards Sports Complex, which essentially means the various parking lots surrounding Oriole Park and M&T Bank Stadium. The vert ramp sat just behind the south end of M&T, just east of Russell Street and just north of Ostend Street.
Saturday was as gorgeous a day as you'll find in a Baltimore summer, 80 degrees and sunny with an occasional light breeze. No doubt that had some influence on the size of the crowd. AST officials put attendance at 54,907 — the second largest in the history of the Tour. The downside is that the vert ramp was swamped. Seats in the grandstands were nearly impossible to come by even an hour before the finals officially started. I have to figure they'll fix that if it comes back next year.
Luckily, my media pass granted access to the photographer's pit on the west side of the ramp. This put me within a few feet of the action, and what I saw there compares to nothing else. The things these guys pull off are amazing. What's even more impressive is how easy they make it look. Even the mistakes look planned.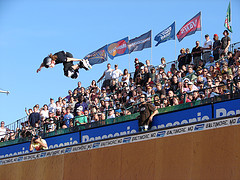 Unfortunately, the competition didn't go exactly as we all would have liked. Bucky Lasek turned in an outstanding first run but bailed on his next two, which ultimately added up to a fourth-place finish. But the word I got was that he basically headed straight from the contest to knee surgery on Monday, so that puts things in perspective.
Wunderkind Shaun White took first, followed by Bob Burnquist, Andy Macdonald, and Lasek.
I can't say enough about how well the event was managed (seating issues aside) and how well I was treated by Nicole Mancuso and the rest of the Dew Tour staff. Nor can I say enough about Bucky Lasek, who is a true treasure of the Baltimore sports community. This guy is at the top of his game in an incredibly challenging sport, and he also happens to be one of the nicest, most decent guys I've ever dealt with. The fact that he regularly rocks an O's cap and skated with a Maryland flag on his board just makes me love him that much more.
Both of the above photos were taken by yours truly, and if you want more I've put up a gallery which you can access here (46 photos total).
I'll try my best to keep up with the Dew Tour, and Bucky Lasek in particular, for the rest of the summer. In the meantime, many of the events are televised and subsequently repeated. Check 'em out if you get a chance.