Perlozz…uh-oh
With all the talk of the Super Bowl and hot stove stuff and whether or not Peter Angelos should just crawl into a corner and die, I thought it might be time to point out that pitchers and catchers report to spring training in just a couple weeks. Also that despite all the front office action this offseason, the Orioles enter 2007 with a severe handicap that everyone seems to overlook.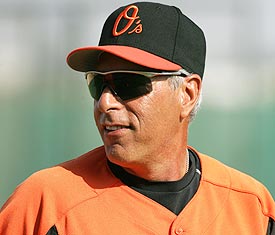 This handicap goes by the name of Sam Perlozzo. Even in the offseason, we see his stunning incompetence and overwhelming inadequacy present in the Orioles' operations. I'm referring mostly to the Aubrey Huff/Jay Payton/Jay Gibbons/Kevin Millar dilemma. Most of the positions each have a set starter, but not left field, designated hitter, or first base.
First base has been almost as big a hole for the Orioles as the bullpen, and it seemed like they found a solution in Aubrey Huff. At least it seemed that way to Captain Obvious and everyone else. But apparently not to Perlozzo. Perhaps this isn't entirely his decision right now, but ultimately it will be and if Huff starts most games in left field, why did they sign Jay Payton?
With Huff out in left, who starts at first base? Despite the prevailing opinion that first base is where you hide your worst defensive player, the Orioles were unable to find a solid first baseman last year. So that leaves Millar, who did a decent job last season but whose offense leaves much to be desired. Most teams probably wouldn't make him an everyday starter.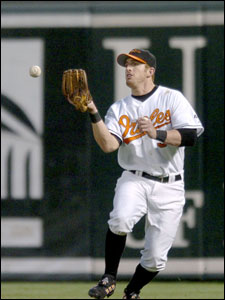 And so we're left with Gibbons at DH. This is exactly as it should be, but IT'S NOT. The Orioles inked him to a deal he didn't deserve and so he will probably see time in the outfield and maybe (shudder) at first base. He is potentially the worst defensive player in the game. Seriously…who cuts off a throw to himself?
The Orioles keep him for his "bat," but in his best year for home runs (28 in 2002), he managed to hit only .247. He's a career .263 hitter, and while maybe it's because he's hurt all the time, that's still not an excuse. What good is an injury-riddled DH? How many licks does it take to get to the center of a tootsie pop? The world may never know. How many at-bats will it take for Gibbons to get a hit? The world may also never know.
So I propose Perlozzo does the obvious thing and keeps Huff at first, Payton in left, and a platoon of Gibbons and Millar at DH. Of course, he won't, but even if he does, the Orioles will probably be able to contribute a hefty number of their losses to the bumblings of Sam Perlozzo. Maybe he will mismanage the bullpen, maybe he will run his catcher into the dirt, who knows?
One thing is certain though; if the Orioles expect to have a winning season in 2007, they will have to give 150 percent in order to overcome the disadvantage they have at skipper.