So Yeah Dood: Pumpkin Ale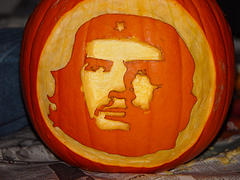 editor's note: this is the latest in a series of libations-related occasional columns by contributor Ryan Boddy
Despite temperatures near 90 degrees, autumn is at least officially here. As such, the thoughts of many a brew fan turn to seasonal additions to their normal schedule of beer crafting and drinking. Typically, this means pumpkin ales. Funny thing is, most of these ales don't actually contain any pumpkin at all, and the ones that do are usually inferior to those that don't.
The reason is simple. Most people associate pumpkin's flavor with the pie that they scarf down after Thanksgiving dinner, while the actual fruit tastes more like a rather bland squash. It's the flavor of the spices used to make that pie that people want in their ales. Perhaps pumpkin ales should more accurately be described as "pumpkin pie ales."
Some brewers take to adding roasted pumpkin flesh to their mash tun, and then finish things off by adding a certain amount of nutmeg, clove, cinnamon, allspice, and mace at the same time they add hops. The difference is almost imperceptible if things go according to plan, and disastrous if they don't (I've heard remarks about ales with pumpkin used in the mash that likened the flavor to that of a Matchbox car). The squash addition doesn't up the ante for flavor or alcohol production, and is much more likely to create off-flavors than just the spice addition (not to mention a fog that can't be exorcised from the finished product).
Brewers also display a common tendency to beat the drinker over the head with the spices they add to their beers. The flavor of cloves in many spiced ales is overwhelming, and ultimately reduces your ability to taste the other elements of the beer. Too much clove included can often mean that the natural anesthetic in clove oils numb your tongue to the flavor of the beer. If the beer tastes like toy cars this isn't such a bad thing, but could be a problem if you want to enjoy the flavor of more than just that first beer.
Without trying to account for taste, there's still something to be said for balance, and intent, when making beers. With almost infinite styles and sub-styles of beer to choose from, knowing a little bit about the style of the beer before the addition of spices gives us a better understanding of how the spices add or detract from the overall flavor. It's like cooking, if you know a little bit about the basic ingredients a chef uses to create a dish, and you know what style the chef is working in, you can argue whether he's done a good job. Knowing that the brewer is trying to do something uncharacteristic of a particular style gives you the ability to decide whether he or she has succeeded, outside of whether it tastes good. Happy accidents are often the mother of new styles of beer.
Most brewers in this country draft their typical American Pale Ale style into double duty as pumpkin ales. They reduce the amount of hops used and replace that with some McCormick's pumpkin pie spice, and that's fine. I use a basic Anchor Steam clone — typically less hoppy than Pale Ales — and add whole nutmeg, a few cloves, some cinnamon sticks, and some allspice berries to the end of the boil.
While not traditionally used, the holiday spices found in the typical pumpkin pie blend could work as well in a Belgian Saison style ale, as they do in the typically American versions you're probably more accustomed to.
Examples you might be interested in are Coors' Blue Moon "Harvest Moon Ale," and Dogfish Head's Punkin' Ale, but pretty much every microbrewery in this country does one this time of year.