Staci's Soap Box
Spring is my favorite time of the year. The weather gets warmer, the flowers bloom, people come out of hibernation and of course, my dreams for the Orioles have yet to be crushed.
I, like Neal, am optimistic that the Orioles can reach .500 (although I still maintain that Perlozzo's presence represents a large, though not insurmountable impediment). The reports coming out of spring training support my optimism.
Obviously the pitching has been upgraded, both in the starting rotation and in the bullpen. I mean, it's almost impossible not to consider the subtraction of Rodrigo Lopez an upgrade. But aside from that, the three young starting pitchers hold a lot of promise and the four new relievers are refreshing after the likes of Steve Kline, LaTroy Hawkins and company.
And most pleasing is the change of attitude. When the Orioles crashed in 2005, the clubhouse was a mess, poisoned by a diva named Sammy Sosa and a cheater named Rafael Palmeiro. Although the chemistry was better in 2006 with Kevin Millar and Jeff Conine, a losing atmosphere continued to pervade Camden Yards.
This doesn't seem to be the case this year, and this is seemingly partly due to the changed attitudes of three of Baltimore's "core" players. Jay Gibbons, though not typically a whiner, wasn't happy about holding down the designated hitter slot. But now it seems he is content with a utility role.
Todd Williams, though his presence in itself is somewhat enigmatic, has made a real hange this offseason, hiring a personal trainer to try to whip his flabby body into something stronger and more athletic (last item).
And finally, and most notably, Miguel Tejada showed up to camp, vowing to be a "new Miguel." He says he has eschewed tardiness and will be the leader we all know he can be.
Charming.
I am of course happy about all this. I love watching Miggy chat away, I'll be pleased if Williams throws a few strikes, and I definitely would be content to not listen to Gibbons bitch about not being in the field when in fact, he is a defensive disaster. But what is going on here?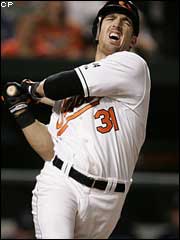 Isn't this what they were supposed to be doing all along? Doesn't Miggy get paid to contribute to the team both with stats and emotion? Doesn't Williams get paid to throw strikes? And doesn't Gibbons, as well as every other player, get paid to do exactly whatever the hell Perlozzo and the Orioles want him to do?
Why weren't they doing this all along? The fact that professional athletes get paid more than almost everyone in this country, including doctors, police, firefighters, etc., is not a fact lost on most people. But somehow, athletes often lose sight of this. Williams should have been in shape every one of his years with the Orioles or any other team for that matter. As a professional athlete it is his duty to stay in shape. He doesn't have to do anything else! It's about time they are thankful for employment and have decided to do what they are supposed to do. As far as I'm concerned, the only guy who gets to fail regularly at his job but still keep it is the weather man.
So it's great that these three have decided to shut up and do what they are supposed to do. I'm just wondering what the hell were they doing for the past few years. This is not to say that the losses are their faults, but maybe if they had shown up, there might have been a small difference. A difference that could have ultimately affected the other players, the atmosphere, and perhaps lessened the accumulation of bitterness hanging over Camden Yards today.