Success! (and some fairness to RSN)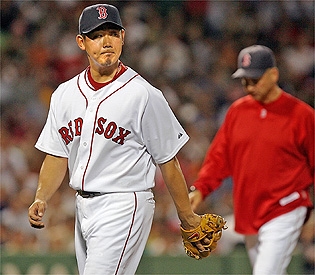 Last night I saw something at Camden Yards I've never seen before: lines. Long, long lines. It was a terrible sea of red and blue, and I was worried.
If the notion of taking back the yard is measured only in numbers, we lost again. Last night was, as you might expect, about 60-70% Sox fans. But our little band of rough riders, including a fortuitously seated Dan the Man and a handful of others, succeeded in transforming our section. We cheered, we yelled, we heckled (staying at all times on the right side of the line). When the Orioles put up 7 runs in the third inning we went bonkers and rode the wave from there to an extraordinarily satisfying victory.
It couldn't really have gone much better.
Which leads me to something that I have to say in the interest of fairness: there's a lot of decent folks in Red Sox Nation. I'm not sure if they represent a majority (my instincts say no), but they do exist.
Most of the folks I talked to last night were decent, gracious, and friendly. We had a robust back-and-forth at times, at other times we just sat and talked baseball. And I learned a little something from them. I learned that they come here because they can, and that they don't understand why more folks like me aren't at every Saturday night divisional matchup. They sit in that beautiful stadium and think "you're not taking advantage of this? Are you nuts?"
The answer to that would be "yes," if you're wondering.
There were assholes, of course, but not as many as I thought there would be. So to those of you who behaved decently and respected us and our stadium, come back anytime. I'd like to think that someday it won't be as easy as it has been, but it is what it is.
Last night was a perfect cap to the baseball season. I'll carry that good feeling with me into the offseason and come to spring '08 with renewed optimism (as always).
If you can't find something similar, I suggest you give up on baseball entirely.