Sunday Football Open Thread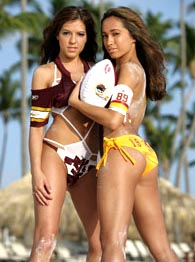 That's correct: I'm in no way above putting up a sexy cheerleader pic when it comes time to talk football.
Only one divisional game today as Pittsburgh heads to Cleveland at 1 pm. Mike Tomlin makes his Steelers debut, along with new offensive coordinator Bruce Arians and a revamped passing game that puts more responsibility on the shouders of Big Ben Roethlisberger. Romeo Crennel, meanwhile, has to be considered a prime candidate for dismissal if he can't get the Browns moving in the right direction. That won't start today.
The Redskins are at home against Miami. Look for renewed vigor and enthusiasm from that Skins D this year. They're going to take a big step forward behind Rocky Macintosh and London Fletcher.
Consider this your all-purpose football thread. I figure every Sunday I'll put one of these up — don't be afraid to take it and run with it.