The Other Shoe Drops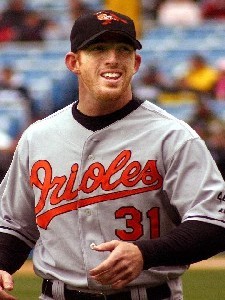 Ever since Rafael Palmeiro got busted for juicing I think we've all had one question in the back of our minds: does it stop there?
The answer appears to be "nope." SI.com is reporting that O's outfielder Jay Gibbons is the latest ballplayer to get caught in the steroids investigation net.
This news, I'm guessing, surprises exactly none of you. Gibbons is practically a poster boy for steroid use, and the rumors have been around for several years. Of course it's all still "alleged", and we should remain willing to hear Jay's explanation if he has one.
That said, let's assume it's true. If so it raises two major issues:
1. Is this it, or are there others?
The same question we had with Palmeiro can only get stronger now. Jerry Hairston, you'll recall, has already been mentioned, and I've heard a thing or two about Larry Bigbie. But what if there's another "big" name out there? What if Tejada's infamous B-12 shots really were dirty? This could get real, real ugly.
2. What do the Orioles do with Gibbons now?
The easy answer is "put him on the next bus out." But it's not that simple. They could cut him and take the financial hit, or they could try to wiggle out of his contract if the allegations prove true. But if they do that it's going to set a terrible precedent, one that I doubt the Players Union would take sitting down. We may very well be facing the prospect of a steroid-tainted Gibbons suiting up for the O's through the 09 season.
Nothing surprises me anymore.