Total Futility
I don't know what to say. But because it's what I do, I'll still say something.
I did an image search just now for "futility." That search turned up this page, and the following image (click both pics for larger versions):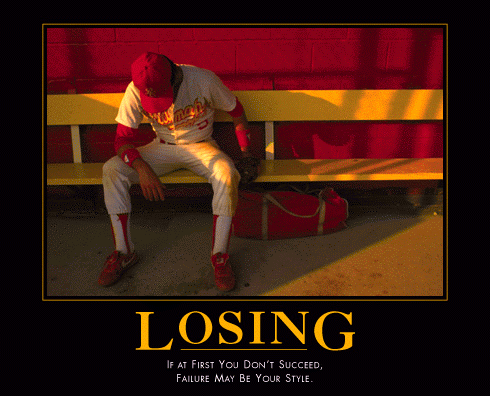 What we've got here is a team facing an epic losing streak. This is the kind of thing that fans of pretty much every other team, in every other sport, look at and say "wow, I'm sure glad we're not that bad."
Remember 4-32? This might get worse. Throughout all of the struggles we've seen over the past five years there has always been something to fall back on. We've always been able to say "we're not Pittsburgh, we're not Kansas City."
I've got a splash of cold water for you: the Orioles aren't Pittsburgh or Kansas City, they're worse. At sixteen games below .500 the O's currently outpace only the Devil Rays, Marlins, and Nationals — each of whom has, arguably, a brighter outlook next year than the black-and-orange.
One of whom just swept us at home.
So maybe that first image isn't the one we want. Maybe it's time to settle in and make this next one our mantra. It might be the only way.