Two Ships Passing?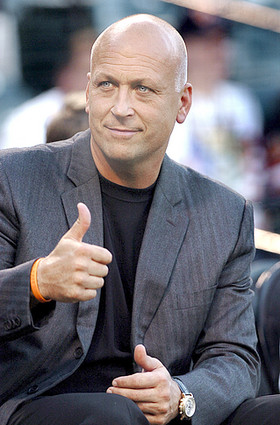 It might be a bit early to pose a hypothetical like this. Nevertheless, consider: are the Ravens and the Orioles headed in opposite directions?
I realize that, on its face, the very notion sounds ridiculous. The Orioles have just completed a solid decade of losing (723-896 during that time, an average of nine games below .500) while the Ravens have been in the upper-third of NFL franchises since their 2000 Super Bowl win. The Ravens are universally recognized as having a strong organization and a good relationship with fans and media. The Orioles represent the opposite of each.
But…
As hard impossible as it may be, try to put your emotions aside for a moment and look at the hard facts.
The Orioles have, for the first time since Pat Gillick, hired a true "baseball guy" and (by all evidence) given him full decision-making authority. Andy MacPhail has done and said all the right things so far, and (as Drew pointed out in the comments on the last post) the fact that he wants to jettison Aubrey Huff speaks volumes about the team's new direction.
MacPhail's going to build through the farm system and go young, even if it means more tough years in the interim. Which is to say he's finally doing what should have been done six years ago. For the first time in years Orioles fans have a reason for real, legitimate optimism.
On the other side, the Ravens are an organization in disarray.
They have a crisis situation at quarterback, the most important position on the field. Hope for resolving it rests either in Kyle Boller (probably not up to the task), Troy Smith (almost certainly not up to the task, though you never know), or a free agent/trade acquisition. If the latter option seems logical, consider your options. Do you really want Donovan McNabb, who at this point is — at best — nothing more than a one or two-year stopgap? Then what? Do you trust their ability to groom a successor?
Their head coach has worn out both his welcome and his abilities. Nobody can argue with his results to this point, but only a fool would claim that he's likely to rediscover that kind of glory in the years to come.
Their defense remains strong, but its leader (Ray Lewis) is aging. He's probably got two years left at best, and the days where he was a dominant, sideline-to-sideline player are gone for good.
Worst of all, they have serious depth issues. This year has shown us that they don't have the kind of young talent that can step in and fill the holes. That's not a "this year" problem — that's a serious long-term issue.
I'm no fool. I know that the likely result of all this — based on history — is that the Ravens find a way to figure it out and return to playoff contention before the O's are anywhere close. Having said that, it's worthwhile to consider the bigger picture.
With very few exceptions, teams run on cycles. The Orioles have defied the odds by staying down for this long and are well overdue for an upswing. The Ravens have likewise defied the odds by not having more than one bad season at a time since 1998. They're due for a prolonged period of adjustment, which means missing the playoffs for two, three, four years (probably starting this year).
I'm not suggesting that the O's are anywhere near staking claim to the #1 spot in this city. It might take a World Series for that. But I do get the sense that both teams might be on the cusp. One good, one bad.
We might be in for an interesting couple of years.