Baltimore Sports Media Approval Ratings: Dave Johnson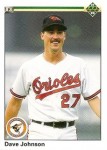 In last week's voting, Peter Schmuck rode the wave generated by his new blog (which, by the way, is pretty damn good) all the way to a 70% approval rating. Congrats, Pete.
This week we turn our attention to none other than pitcher-turned-broadcaster Dave Johnson.
Despite being part of the mythical "Why Not?" season, Johnson never found much success on the hill (22-25 with a 5.11 ERA for his career). So, after retiring from baseball following the 1993 season (spent with Detroit), the Baltimore native moved on to other pursuits.
One of them — Dave Johnson's Baseball Academy — is very cool but doesn't concern us here. The other — color analyst for MASN and for the 105.7 pre- and post-game shows — is very, very cool and does concern us here.
Johnson brings something unique to the booth, with his bulldog mentality and willingness to call things exactly as he sees them. With that, however, comes a tendency to get a little bit emotional at times and maybe wear his heart on his sleeve a little too much. He's definitely not polished out there — he's Dave, take it or leave it.
Which will it be?