Baltimore Sports Media Approval Ratings: Jim Hunter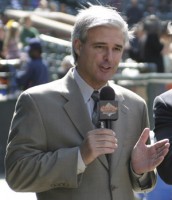 Last week, Mark Viviano rode the lowest vote total so far to a respectable 79% "yea" rating. That's about what I expected. Congrats, Mark. Something tells me "the bulldog" won't fare as well when his turn comes up.
That'll have to wait, though, as this week we turn our attention to that stalwart of the Orioles TV broadcast booth, Mr. Jim Hunter.
Hunter has been working with the O's in some capacity since 1997. Presently, his main gig is working the MASN studio with Rick Dempsey, though he also handles game duties on occasion. It seems to me that he works every Sunday, but I'm not sure if that's a matter of official policy. Either way, it might or might not have something to do with the Curse.
Hunter's got a lot of experience behind him, including CBS Radio "Game of the Week" and Winter Olympics duties. But I've gotten the sense that he's also a source of some strong opinions out there in Birdland.
So, now's your chance to be heard. Cast a vote then explain why in the comments. Usual rules apply, of course.