Baltimore Sports Media Approval Ratings: Mark Viviano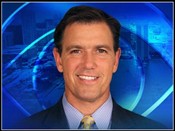 Last week, former Oriole great Jim Palmer scored a record-setting victory in the SMARs, finishing with a seemingly impossible 97% "yea" rating. To be fair, though, he also had the fewest votes of any candidate so far. The message I take from this is that people find Jim Palmer (the broadcaster) satisfying, but not necessarily inspiring.
This week we focus our attention in a different direction as we examine the work of Mark Viviano. While not quite as visible as some of our other subjects, Viviano is nevertheless a giant in the local sports media landscape. He holds down the midday spot on the city's largest sports talk radio station (going on right before Anita Marks), and he's also the sports director at WJZ TV channel 13. In past incarnations he worked for both 98 Rock and WBAL, and he was the guy who broke the story of the Browns moving here to become the Ravens.
As his bio points out, he's been voted the "best" by both Baltimore Magazine and the City Paper. Seems fair enough on the surface, no?
And yet I wonder. Despite the depth of his experience and breadth of his accomplishments, I never hear people talking about either him or his work. This poll is, for me, as much about satisfying that curiosity as anything else.
So I ask you to vote away, and if you know anyone in the area who might have an opinion don't hesitate to send them a link and invite them to the conversation. Of course, the usual rules apply: clean, cool, nothing you wouldn't say if he were across the room.
Also, one quick note: this poll does not deal with Viviano's radio partner, "the bulldog". He'll get his own spot down the road.