Baltimore Sports Media Approval Ratings: Roch Kubatko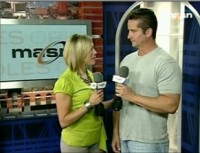 As of this moment, Jim Hunter is just one vote to the "nay" in last week's poll. But it doesn't close for about an hour, so there's room for that to change if you haven't voted yet.
With all of the talk in yesterday's Open Thread about Roch Kubatko potentially leaving the Sun (a rumor he partially shot down today), it's only a natural for him to be the subject of this week's BSMAR poll.
Kubatko, as you know, is a renaissance man of sorts in terms of Orioles coverage. He's been a reporter at the Sun for quite some time, at least since the late nineties, but his profile has been raised significantly over the past few years on account of his blog, Roch Around the Clock. He's also done regular guest appearances on Anita Marks' radio show and on MASN.
For the most part, he's as good as there is when it comes to inside info on the O's. I can't imagine anyone would argue with that.
Of course, he has taken his share of arrows. He tends to the clunky now and then with his writing style, and his propensity for cracking questionable jokes can get downright cringe-worthy at times. And some people, well, just don't like him for whatever reason.
The only vote that matters, though, is this one.