Charm City Sports Media Gets Weird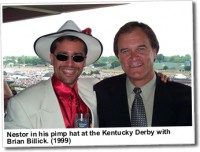 I can't remember the last time — probably because it hasn't happened before — that two major sports media announcements happened here on the same day. Today was such a day, but the announcements served less to offer clarity than to obscure it.
First, as I detailed in my latest Examiner.com piece, news came out that 1370 AM would become Mobtown's third all-sports radio station. For now they're airing syndicated Fox Sports content along with a local show hosted by Jerry Coleman from 3-6 pm.
Not to be outdone, tonight Nasty Nestor Aparicio announced that he has partnered with Brian Billick — yep — to launch "WNST Sports Media", which is for the moment as nebulous a concept as it sounds.
It's impossible to judge either of these ventures before they've actually begun, so I'll hold off on that. What I will say, though, is that both 1370 AM and Nestor/Billick had better be very, very careful about how they allocate resources, and formulate their strategy. I can easily envision a scenario where both of these ideas drop dead before it's even time to talk about Jake Arrieta as a September callup.
That said, they face very different challenges.
Radio being what it is, the folks at 1370 need to quickly establish themselves as better than the other guys (WNST and WJFK). They need to sign the best local hosts they can find and tap the vein of people who want Baltimore sports in-depth, all the time, all across the area. If they can do that they'll win. If they can't do it, all the signal strength in the world won't matter.
The web being what it is, Nestor and Billick need to realize what it takes to build a successful New Media venture. I could write a term paper about that, but in brief the most important things are:
1. Understand that the ultimate goal should be to create a community of passionate, involved users. Not readers, not hits, not page views, but users. In order to do that, they'll have to relinquish control of the "message" and be patient, responsive, and transparent (that most of all) at every turn.
2. Understand what people want from the web. That means as little advertising as possible (including no spam) and a focus on real value (which includes understanding what real value is, and not trying to manufacture or impose it). It has to start with great content, but it also means listening. Not saying they'll listen, but actually listening.
They'll also need to understand that success is a long-term proposition. A year at least, realistically two or three. Provided, of course, that they start out by defining "success" the right way.
Much remains to be seen about both of these ventures, but it's an interesting time for Baltimore sports fans. Not the least of the reasons being that we are — literally — the people who will seal their fates one way or the other.