Dew Tour, Welcome, Podcast, Sweep?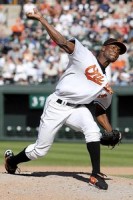 This might be a little fractured, but it's all of the things (minus the stuff I'm certainly going to forget) that need to be addressed on this heat-of-a-thousand-suns Sunday morning.
First, the Dew Tour has been mentioned in the comments a couple of times and I've been meaning to get to that. The bad news is that I'll be out of town (check yr email, DtM) and won't be able to go this year. The good news, though, is that I'm sending photographer Andrew Nagl on behalf of the Loss Column. He'll be taking some pics for the site and writing up a rundown of what it was like.
For anyone who's thinking about going, do it! The Dew Tour was one of the best sporting events I've been to in years, and it's impossible to understand the things these guys do until you see it in person. I recommend it without reservations and I'm bummed as hell that I won't be able to make it.
Also, if you go, show the love for Bucky Lasek.
Second, I've seen a few new names in the comments lately and I want to say "welcome." Here's hoping everyone sticks around and helps make the community even stronger.
Third, I'll be a guest tonight on a podcast produced by the folks at Drunk Jays Fans. The actual interview is tonight, and there's a link right on their page to where you can get the audio. I'll let you know how it goes.
Finally, could it be? Are we on the verge of sweeping said Jays on the road? I refuse to get excited about it because road sweeps are hard to come by. But, it's nice to be in that position now and then.
It'll be Radhames Liz looking to follow up a strong debut (and cement his rotation spot) against Roy Halladay.
Like I said, road sweeps are hard to come by.
EDIT: I knew I'd forget something, and I'm a true dumbass for this: rest in peace, Jim McKay.
McKay was before my time but his name towered over the world of sports broadcasting, much like Walter Cronkite's does over the news. And McKay's work at the Munich Games might forever stand as the best ever.