Dude = Someone Who Works On a Ranch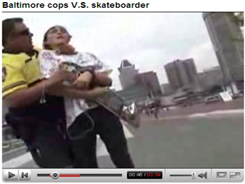 By now you've all heard, I'm guessing, about half-wit cop Salvatore Rivieri and his penchant for roughing up 14-year old skaters. If you haven't, though, click that link to watch the YouTube video that ignited the controversy.
Now, there's no need to get into a debate about Rivieri and what he did, whether the kid was really being disrespectful, etc. No, what I'm more interested in is the sheer humor of the whole thing.
I found it rather inspiring, so I sat down today and went to work. You can now listen to the results:
Sit Down (I'm Not a Dude) — DJ DoodRanch (mp3 link)
I realize this isn't really sports-related, but it's close enough.