Grab Bag: Hall of Fame, Terps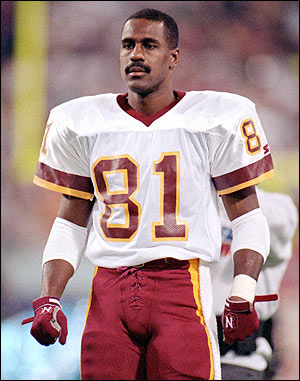 A few quick, non-Super Bowl items (scroll down one post for the football fun):
First, congratulations to Darrell Green and (finally) Art Monk on getting elected to the football Hall of Fame. The Redskins are a team in terrible, terrible turmoil. Daniel Snyder has systematically dismantled all of the Joe Gibbs goodwill by botching the search for his replacement, and there is a growing fear of Dark Times in Landover. Green and Monk represent a link to some truly great teams, and a truly great brand of football. You couldn't find two more deserving guys.
Second, the Terps are on a hell of a roll right now and are slowly but surely crafting an unlikely case for NCAA Tournament inclusion. Today's road win over Georgia Tech puts them at 4-3 in the ACC with games against Boston College and NC State coming up before a rematch against Duke.
If they go 8-8 in conference play — a very realistic scenario — they'll end up at 18-13 overall. That's got bubble written all over it, but a 9-7, 19-12 finish should stamp their ticket. Notwithstanding their performance in the ACC tournament, of course, which might very well be make-or-break.
Third, I know there's not a lot of interest in the Wizards or Capitals around here, but both teams are playing extremely well right now. I see no reason at the moment why they can't both make the playoffs. You have to admit that'd be fun.