Harbaugh Settles In…Fassel Next??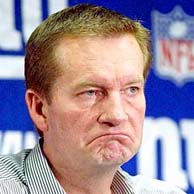 Say it ain't so: the Redskins are reportedly giving Jim Fassel serious consideration for their head coaching vacancy. For those of you with a distaste for our neighbors to the south, rejoice.
It's true that Fassel has a Super Bowl appearance and a Coach of the Year award on his resume. It's also true that he's 58-53-1 as a head coach. But I remember his time here in Baltimore, where he always struck me as a guy whose best days were behind him.
The Steelers and the Ravens got it right by going with young coaches who inspire. Every team in the league has talent, and good coordinators and position coaches can refine that talent. The head coach needs to lead above all else, and nothing about Jim Fassel's history suggests to me that he's a capable, inspiring leader. He's Hillary Clinton, and the NFL is fast becoming a Barack Obama league.
Which reminds me: I think the Ravens nailed it with John Harbaugh. This looks like a fantastic hire, and I'm looking forward to seeing him and Mike Tomlin duke it out for the next several years.