Hernandez Struggling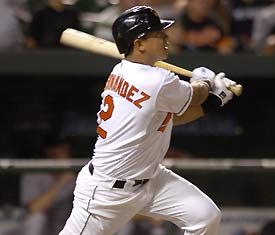 Jeff Zrebiec is on the line at WBAL right now, talking about (among other things) how Luis Hernandez has looked bad so far this spring. Zrebiec speculates that the Orioles might look for a veteran infielder to fill the starting SS spot, relegating Luis to a utility role. Peter Schmuck also has more on Hernandez's struggles in his latest piece, but I don't like to link Schmuck.
With no other major league-ready shortstop in the organization (I'm not counting Brandon Fahey), we are in deep if Hernandez is so bad that he can't go north as the starter.
I'm OK with signing a veteran under those circumstances. That wouldn't be a situation where we're blocking a younger player or soaking up a roster spot. Somebody has to play shortstop, and we're just woefully thin at that position. There are worse things than bringing someone in on a one-year deal.
That said, my hunch is that Hernandez will be fine. Maybe not particularly good, but fine.
On the pitching side, there's been talk that the O's have interest in free agent Kyle Lohse (career 63-74, 4.82) to fill the role of fifth starter. Ahead of Albers, Penn, etc.
This smacks of Scott Boras gamesmanship, and I'm confident there's virtually zero chance Lohse ends up here. Unless, of course, Steve Trachsel gets cut and Lohse comes in to fill the "veteran presence" role. That'd be a wash.
Notes
— Speaking of Penn, he seems to be staking a case for the fifth spot.
— Sidney Ponson has landed (beached himself?) in Texas.
— What the hell is this?
There's speculation that Orioles rebuilding process will feature Sherrill as a closer. And if he does well, look for the Orioles to flip Sherrill for more young talent after the All-Star break.
OK…