Hernandez to Cincinnati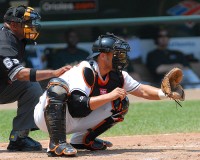 The big news you've no doubt already heard from the winter meetings: listless backstop Ramon Hernandez has been traded to the Reds.
To which the Orioles fanbase responded, "someone took Ramon??"
Seriously, this is a great move, and further proof that AndyMac is some kind of wizard.
As for Ryan Freel, I suppose we haven't really had a quality utility guy here since, what, Chris Gomez? If Freel can be that kind of player, great. But, in all honesty, who cares? The path is clear for Matt Wieters to win the job, and that alone makes '09 an exciting year.
One downside: no more Joe Angel calling out Ra-MOAN…Air-NAN-dez! We'll live.