Jerry Quarry, Alan Goldstein, and Telling Stories With Sport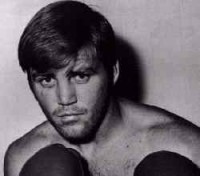 Jerry Quarry was a boxer. When he died in 1999, I had no idea who he was.
Turns out he fought Ali twice, and traded punches with Joe Frazier and Floyd Patterson. He was considered a fairly notable fighter, a "great white hope" of sorts. He was also punch-drunk, nearly broke, and 53 when he passed, barely conscious of who he was or what he was doing.
I learned these things via his obituary in the Baltimore Sun. I remember that when I first read it, I cut the columns from the paper and hung them up on the bulletin board at work. I highlighted two phrases that I thought everyone else should read. It felt like the thing to do.
I got to thinking about Jerry Quarry the other day for no particular reason. But I couldn't remember what it was that had fascinated me so much. I had some vague idea of the quotes I had been compelled to share, but nothing specific. So I went digging.

After some stops and starts I managed to penetrate the Sun archive system, where I paid $4 to access the original piece.
I found the quotes in question, courtesy of former Sun scribe Alan Goldstein:
Asked if he was bitter about ending up broke and depending on his family to care for him, he said: "No, it's part of life. Life is just a steady climb to the bottom."
And, more importantly:
"I wasn't fighting for race, creed or color that night. I was fighting for money. My heritage was like the `Grapes of Wrath.' I went to over 20 schools as a kid. If I'd beaten Ali that night, I'd have made millions. It just wasn't my night."

Quarry did earn more than $1 million in his career, but ended up living on a $614 Social Security disability check as a childlike hulk of a man.

"Boxing is a very cruel sport," he said in his final years. "It's a one-on-one confrontation with your life. But retiring from the ring, that's really hellacious."
If I needed a reminder of why I love sports, these quotes are it.
Here is Quarry, a beaten man facing the end. Punch-drunk or not, he's acutely aware of how he spent his life and just what it means. His only regret is that he simply can't fight anymore. That kind of sentiment exists in every great athlete. And, in a sense, that is the narrative we follow every time we watch.
And here is Alan Goldstein, a brilliant sports writer if ever there was one. He realized that the story wasn't the fights, or the results — it was the man. Goldstein correctly realized that Quarry's life transcended boxing — transcended sports — and reached the level of literature. To write his obituary any other way would have been to cheat him of everything he suffered to earn.
It's about finding the humanity that lies beneath the broadcast, the recap, the box score.
Jerry Quarry lost every one of his big fights. It never was "his night." Yet I find in that fact — and in Goldstein's account of Quarry's life — something great. Something worthwhile.
I took the liberty of reprinting the entire Quarry obit, and I hope you'll read it here. It's a fantastic piece of work.