Kevin Millar: At It Again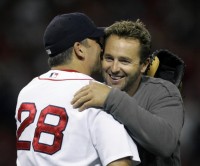 As Andrew pointed out in the Amber thread, Kevin Millar spent his Sunday night taking in the Celtics game (scroll down) with some other Boston sports luminaries. As one would expect, he showed up on the big screen and received quite the ovation.
I don't know what to make of this. On the one hand it's just some dude enjoying an off night among friends. On the other, it just looks bad.
Basically I think it comes down to this: Millar is kind of a big oaf, and he knows not what he does. Some of the best years of his life were spent in Boston and he probably really does wish he was still there. I don't doubt that he gives the Orioles 100%, but he's not now and will never be "one of us" (for lack of a better way to put it). He's just a warm body at first base, holding a place for Mark Teixeira or whoever else we settle on to man that position for real.
It's a shame, though, because I'd like to like him. As it stands, the best I can do is just not really care one way or the other.