Let the Madness Commence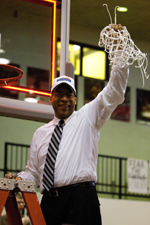 First, the good news: a Maryland team will win a game in this year's NCAA tournament.
The bad news: it will be the play-in game.
On Tuesday night, Mount Saint Mary's will take on the surging Coppin State Eagles in the "opening round" game. The winner earns the right to get throttled at the hands of UNC.
My beloved UMBC Retrievers, meanwhile, play on Friday against Georgetown. I like the fact that it's an all-local matchup, but man…that's a tough draw. I'll keep hope alive, of course, but this looks to be a situation where just getting there is the victory.
I could be wrong, but this bracket doesn't seem to include any great injustices or surprises. Everything feels pretty right.
The Loss Column will be setting up a brackets pool on CBS Sportsline, but there won't be a buy-in or prizes. Unfortunately, there's no feasible way to collect money because PayPal shut me down last year. So we'll be doing it for sheer joy and bragging rights.
Consider this your pre-Tournament open thread and let it fly in the comments.