Links and Thoughts and Playoffs Roundup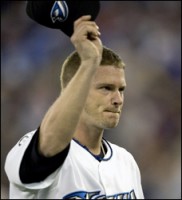 I've got a few things that have been building up in the simmering kettle of my Sports Brain…now seems like a fine time to put them up for your consideration.
Before that, though, many thanks to T.J. for leaving his recent comment. If you all haven't read it yet, please do. It's interesting stuff for sure.
Moving on…
My latest piece for the Examiner is up, and you can read it here.
And speaking of published pieces, Marc Unger got in touch with his latest piece of work, and it's good. Funny stuff and pretty much dead-on.
Regarding A.J. Burnett, I found this article very interesting. Money won't be the main consideration, eh? Perhaps geography will hold some sway?
The Loss Column 2.0 is coming along nicely and should be ready maybe next week or the week after. I think you will love it, and I think it will help push us to the next level. Good times ahead.
As part of that, by the way, I'm going to be writing out an official comments policy. Basically nothing will change, I just want to put down in writing some of the things that most of us already understand. If anyone has any suggestions as far as that goes, let me know.
Finally, I'm very interested in tonight's Rays–Pink Hats matchup. The 2-1 game is always my favorite in a seven-game series, and it's actually the most important game besides the rare and mighty Game Seven itself. Consider this on open thread for that and fire away with whatever 'ya got.