Mark Teixeira: the One That Got Away?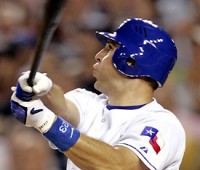 Well, yes, if you believe what Peter Schmuck has to say on the matter.
Two things:
One, I respect Schmuck but this smells like the old-school newspaper columnist in him coming out. This is a half-sourced but extremely newsworthy claim, and there was a time when this was the kind of thing you'd do to "sell papers". We're in grain of salt territory for sure.
Two, even if it is true I'm still pretty impressed with the effort. Jury's still out, though, until the rotation starts to take shape.
Totally unrelated, but anyone who's ever been interested in skateboarding will want to check out my latest Examiner piece.
Hot Stove!