Maryland's Chances = Fading Fast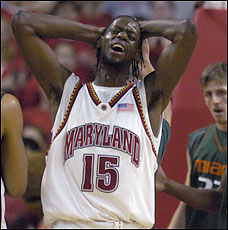 More bad news for the Maryland Terrapins Men's Basketball Team (their play of late demands a formal address).
Bubble teams like the Terps have to hope that the mid-major conference tournaments go as planned. When a mid-major #1 seed loses in their conference tournament it creates one more bubble team for the selection committee to consider. That's what happened tonight and yesterday.
First, it was VCU (last season's Duke-upsetting heroes) losing in the CAA semifinals to William and Mary. W&M then lost to George Mason, giving Mason an automatic bid.
Lots of people feel VCU might deserve a spot anyway. I'm one of those people.
Then tonight, San Diego knocked off #22 Gonzaga in the WCC tournament final to get their own automatic bid. This was after SD took down Saint Mary's — a team that had been nationally ranked this season. The WCC will likely now send three teams to the tournament. Cue the "ACC of the West" comparisons/jokes.
This means three spots (VCU, Gonzaga, Saint Mary's) that would have been open to a team like Maryland are now taken. For the Terps to make it now they have to win at least two games in the ACC tournament — over Boston College and then Clemson. Three games is more realistic, and that third one would probably be against Duke.
Not going to happen. This is UMBC's year. They're playing their conference tournament final at home on Saturday. I'm going to try to make it out there, but if I can't I'll be with them in spirit. I hope you'll all do the same.