Mike Hampton: an Object Lesson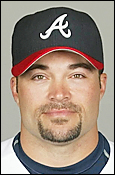 Word has leaked out today that often-injured lefty Mike Hampton has reached an agreement to rejoin the Astros, for whom he won 22 games in 1999. The Chronicle report calls it "a low-risk, high-reward move for the Astros, who are in need of starting pitching." True enough.
That's a far cry, though, from the situation Hampton found himself in back in 2001, when he signed an eight-year, $121 million deal with the Rockies. Since then, he's pitched more than 190 innings only once (2002), having been hobbled by a series of injuries. He did win 14 games in '04 and 13 the next year — both for Atlanta — but never lived up to anything close to the promise of his hefty deal. By any measure, the past eight years have been a bust.
Regardless of whether or not Hampton regains his form and stays healthy, his career serves as a lesson for any team considering a long-term deal for a pitcher with injury history. A team like, I don't know, the Orioles perhaps.
It's hard not to think of Hampton when the prospect of a four or five-year deal for A.J. Burnett comes up.
Every pitcher is an injury risk. That's the nature of the position, and also part of the reason that guys who happen to be durable tend to stick around even when their stats fail to impress. The question, then, isn't one of avoiding risk, it's one of how much risk to take on.
The more I think about Burnett, the more I think he's probably not worth it. At least, not at four or five years. If there's a way to convince him to come here for three years and maybe an option year, fantastic. I'd even overbid on the annual value in that scenario. But for a young, rebuilding team to guarantee four or five years (and, what, $17 mil/per?) to a pitcher strikes me as the kind of unwise allocation of resources that got us into this mess back in '98-'99.
Then again, the O's backed off of Aaron Sele because of injury risk, and I seem to recall him having some fine years after that.
In other words, I'm glad it's not my responsibility.
Update: In news from the "unimportant and not unexpected" department, none of the O's free agents (Millar, Payton, Cintron, Castro) have been offered arbitration. Odds are that none of them come back, although Millar is a possibility.
Also, Luis Hernandez has signed a minor league contract with the Royals.