Mussina Retires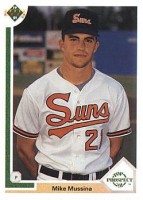 As noted in the comments by BBM, Mike Mussina has decided to hang up his spikes, fresh off his first 20-win campaign.
I first saw the news a few hours ago on a TV at the grocery store (of all places), and I greeted it with a shrug. Then I tried to conjure up some sense of wistful emotion, some sense of fondness for his time in black-and-orange.
No luck.
As far as I'm concerned, Mussina isn't an Oriole and may as well have never been one. He pitched here, yes, but lots of guys did that. I didn't feel any particular fondness when Randy Myers retired, either.
Mussina's decision to leave the team made sense, but to leave the team and head to the Yankees was unconscionable. I believed then and still believe now that he chose the Yankees at least in part to stick it to Peter Angelos, but in doing so he also stuck it to all of us.
I nursed my anger about that for several years, but after awhile it just made sense that he was a Yankee. If you think about it, he always was the type.
His retirement is news here because it has to be, but I wish it wasn't. He's all yours, New York. Buy him a gold watch, throw a parade, hang a plaque, whatever. History and I both regard him as a Yankee, and as such I see no need to look back on his accomplishments.
Except, of course, to happily note that he never did get that ring.