No "Best" In the Best-of-Five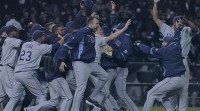 Dodgers, Phillies, Red Sox, Rays. Baseball's version of the Final Four is set, and it probably doesn't look much like most people would have predicted back in April. Such is the beauty of the game.
But I'm troubled by how we got here.
These four teams are the best by virtue of the fact that they're here. It's hard to argue with facts, and I didn't watch the Brewers or the Angels enough in the regular season to really know what they had to offer. But I do know that baseball is cheating itself — and us — by not allowing the first round of the playoffs to run a full best-of-seven.
You can make an argument that everything about baseball lasts too long. It's certainly a point to be made, even if I'm on the fence about it myself. But until the season itself gets shortened, there's no logic in compressing the first playoff series and failing to give teams the chance they've earned.
If a team goes down 0-2 in a best-of-seven they've still got a decent shot. If they go down 0-2 in a best-of-five, they're finished. Baseball is a game built on streaks and momentum, and nowhere could they be more important than the postseason. I'd like to see teams have an opportunity to stumble a bit and then come back, or to lose on the road but make it up at home. That's part of what makes the baseball playoffs so exciting, after all. No reason to cheat us — or the teams involved — out of it.
Until then, we've got what we've got with these four. I won't make any predictions, I'll just say that I would really like to see a Rays–Dodgers World Series. I mean bad.