Not Why Not, But When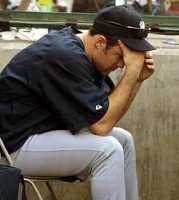 Something about the way the Orioles dispatched the Janquis tonight feels better than normal. And different.
Maybe it's the fact that they did it against noted turncoat Mike Mussina. Maybe it's simply the fact that the Janqs and O's look more and more like two ships passing in the night.
Then again, maybe it's the continued maturation of Daniel Cabrera, the poise of Luke Scott, the signs of emergence in Adam Jones, and the general tenor of a team playing better than anyone thought they would.
Whatever it is, it's starting to seem…real.
We're lucky enough here in Baltimore to have seen this kind of thing before: the memorable 1989 "Why Not?" Orioles. The team that was widely expected to be one of the worst in the majors, but which shocked the world by finishing two games out of first place.
Since that time, the phrase "Why Not?" has taken on the status of lore. It's a perfect — and perfectly Baltimore — turn of baseball phrase, an easy rallying cry and an endless well of hope. It is, then, not something to be trifled with.
So what I wonder is this: at what point do the '08 Orioles earn "Why Not?" status? At what point do we feel safe dusting off the old slogan, knowing that we do so with the right mix of respect and faith?
Tonight's win was inspiring, and the team is doing nearly everything right. But…it still feels too soon. I don't think we've got a "Why Not?" situation yet, but we're getting there.
My feeling is that if we're still at or near .500 after this brutal 22-game stretch against division opponents, it's time to break it out. Whaddya say?
(inspired, again, by Kona's comment)