Orioles Uni Unveiling — the Official "Announcement"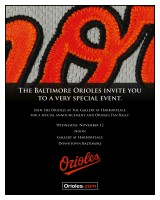 Here's the official invitation to the November 12th
Orioles
fan event (click for full-size). This has already made the rounds a bit, but I wanted to go ahead and put it up anyway. The hint on the cover there is pretty clear, but as we discussed earlier there's a lot of buzz about changes beyond just returning "Baltimore" to the road grays.
I'd say this: don't be too quick to believe any of the rumors. That's not to say we shouldn't enjoy the speculation, of course, but nothing's official until it's official.
Anybody else going? What about an official Loss Column Beers After the Announcement meetup? Anyone game?
Also: light the hot stove!