Ravens-Cowboys Postmortem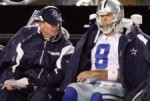 I was seriously considering spending most of this entry ripping on Willis McGahee for being a terrible running back. At that point in Saturday's game, he had just missed a block, which led to Joe Flacco getting decked.
But then McGahee had his best run of the season. A little up-the-gut run that he took for 77 yards.Is that run enough to make me forgive him for falling down as soon as he is touched and for missing easy blocks? For the time being, yes. Especially since La'Ron McClain followed in his footsteps on the next possession and cemented the Ravens' win over Dallas.
The last game in Texas stadium's history will go down as a Ravens victory. There's nothing wrong with that in my mind. It was a great victory that was made sweeter by spoiling Jerry Jones' party. Not only was it the last game for Texas stadium, it was probably Wade Phillips' last game as a coach in Dallas. That should put a few Dallas-area Arby's restaurants out of business.
For Dallas, the big question probably centers on Tony Romo. A lot of people have said for a while now that Romo is not a big-game quarterback. I honestly have not watched him that much, and after watching him play last night, I don't think that I will be paying him much attention in the future. He was awful. I'll give Ed Reed a lot of credit for his two picks in the game, but let's be honest — those two passes were duds from the moment they left Romo's hand. I think the Ravens got in his head so bad after that first pick that the Cowboys would probably have been better served putting Brad Johnson in.
The Ravens' defense was fired up for two reasons — for the major call in last week's game and to spoil the Dallas party. Aside from a few missteps, the defense played lights out and it seems like they are peaking right now. That's exactly where we want them to be.
As for the offense, you could tell Flacco was a little intimidated. He threw a lot of high passes and didn't seem to find his rhythm until the third quarter. The gods were smiling on him this week though, because there were a few throws that seemed destined for Dallas that ended up on the turf.
Derrick Mason showed once again why he is one of the greatest wideouts that you never hear about. After every catch he made, he came off the field in excruciating pain and yet he always made it back in. He knows that he's Flacco's safety net. The way Flacco was being pressured, he needed Mason on the field.
Mark Clayton had another solid evening. He is starting to show that he may become a reliable go-to guy when Mason can no longer fit the bill. The offensive line got beaten down pretty good. Throughout the first half, the Dallas defense seemed to live in the backfield but the Ravens stuck with the run, which paid off. By the second half, the Dallas defense was on their heels from being run at so many times. When you have guys like Lorenzo Neal and McClain pounding on you play after play, most teams will give, and Dallas finally did.
Special teams appears to be getting better and a lot of that has to do with Jim Leonhard. He has the focus and the guts to make those catches in traffic that Yamon Figurs would run from or fumble. Granted, Leonhard doesn't have the speed that Figurs does but he has the hands, which to me is more important.
I wasn't convinced that the Ravens were going to pull that game out until McClain sealed it. I just felt that Dallas couldn't possibly lie down and die like they did. I was waiting for another 92-yard drive.
After this game I think the Ravens are playing some of the best football they have played in years. With Jacksonville at home next week the Ravens are primed for the playoffs. It's in their hands. Watching your team play at home for a spot in the playoffs is almost as good as it gets for a fan. Forget Christmas — I can't wait for Sunday. Happy holidays everyone.
(photo borrowed)