Ravens-Redskins: Playoff Implications Abound
There's a full slate of NFL football today, and discussion on any of it is welcome. The Steelers–Cowboys match, in particular, might get some traction.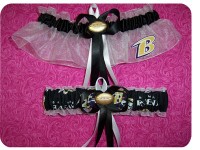 All eyes, however, are rightly focused on the night game. The hated (by some, though I think it's asinine in the extreme) Redskins make the trip to M&T for a game that means a lot to both teams' postseason chances.
For the Ravens, a win means they either keep pace with the division-leading Steelers, or tie them at the top. All dependent, of course, on what happens in that Dallas game.
A loss would be bad, but I'd still like their chances at 8-5.
Another team whose chances would look a lot better at 8-5 is the 'Skins, who basically have to win this game. They're long since out of the running in the NFC East, and the wild card race is too competitive to lose ground now. People toss the term "must win" around way too damn much, but it's pretty close.
I'm not comfortable predicting this, but I do think it will be a close game. Maybe something along the lines of 21-17 one way or the other.
Oh and that image above? I dug it up deep in an image search, and it comes from a site called Garters by Kristi, where they handcraft all kinds of strange and insane garters. I thought I'd give them some pub.