Ravens-Redskins Postmortem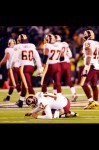 It's unreal. No one knew in August that this team would accomplish what it has. Of course back then no one knew who Le'Ron McClain was, or Joe Flacco, and no one knew that Ed Reed and Ray Lewis were going to be the show that they are this year. This game against the Redskins wasn't perfect by any means, but it was an important step. The Redskins have their playoff dreams as well, and were in a very similar situation to Ravens coming in. This is a game that the Ravens of years past would have lost — it had all of the fixings to be a win for the 'Skins. Sunday night primetime, important game for the Ravens season, rival opponent. All of these factors would have spelled defeat in the past. Not this time though.
This game was pretty much all defense. The Ravens looked terrible in the first half and if it weren't for Ed Reed's fumble recovery for a touchdown, I'm not sure if this game would have turned out the way it did. That play seemed to set the tone for the rest of the game. When Joe Flacco tossed a pick in the third I thought that the momentum might change but it didn't. That's the other major difference in this team from years past. They didn't let their mistakes snowball and they didn't fold.
I loved the pressure that the Ravens put on Jason Campbell. That guy was under siege most of the night. When the Ravens keep at a quarterback like that, the guy is pretty much guaranteed to make a mistake. Those mistakes are what guys like Ed Reed live for. With two picks and a fumble recovery for a TD, Ed Reed looked like his old self out there. Right now I don't think there is any player more fun to watch in the NFL.
I think that Le'Ron McClain has proven himself to be the number one back and I think that the Ravens as an organization need to recognize him as such. Granted, he needs work on holding onto the ball but as far as running up the middle goes, he's tough to beat in the NFL. Of course the fact Lorenzo Neal is leading the way doesn't hurt. I hear a lot of people say that the Ravens just aren't using Willis McGahee correctly. That he's an outside runner. Maybe so, but the Ravens have become an up the gut team and I don't see any reason to change that when it seems to be working pretty well. People will argue that our offense just doesn't fit McGahee and they are right. I don't think this is the team for him and I think that this offseason it's time to shop him around. The more that Ray Rice carries the better he is going to be and until he gets to that level we have a great back in McClain.
Isn't it great to watch the Ravens play meaningful football in December? It feels good to know that they can still control their playoff destiny. They have the biggest game of the year this week against the Steelers. Now, I hate the Steelers but it is kind of cool that they are the team that we have to beat for a shot at an outright playoff berth. The Steelers looked horrible against the Cowboys and if it weren't for Tony Romo melting down, the Cowboys would have won that game. If that's the Steelers team that shows up then the Ravens won't have to work so hard but if the Steelers team that dismantled the Patriots shows up then the Ravens will have their work cut out for them. Either way it's going to be a great game and I think that this Ravens squad can beat whatever Steelers team ends up crawling down here.
I just wish they'd leave their fans up north.
(photo via)