Ravens Win Big, Rays Seek Same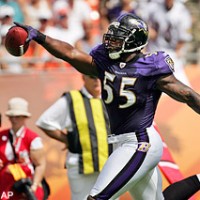 Sorry for the lack of a Sunday NFL Open Thread today. It got lost in the shuffle this morning, and I realized it as soon as I parked myself at Bert's, with no way to update from there. Stupid lack of an iPhone.
Anyhow, I watched the Ravens game and came away impressed by what I saw. Flacco was a steady hand in there and the defense came up big. At 3-3 they're now positioned as well as anybody could have wanted.
Don't forget to check in tomorrow for Justin's take on the game.
Division-wise, the Steelers picked up another win to go to 5-1 while both the Browns and the Bengals lost (to the Redskins and the aforementioned Steelers, respectively). It's pretty clear that the road to AFC East glory runs through Pittsburgh and only the Ravens have enough gas to give it a go. This should be a fun ride.
And now we have baseball, where the Pink Hats are currently up 1-0 on the Rays in the second inning. Much as I would like to muster some enthusiasm for this game, I have a deep sense of apprehension. I'll be watching Mad Men instead, secretly hoping that the Rays do the impossible unlikely.