Spring Notes 8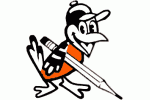 No surprises here: Kevin Millar has been named the cleanup hitter. Or maybe that ought to read "cleanup" hitter, since the absolute maximum expected production out of Millar would be .280 with, say, 18 HR and 85 RBI. But we all knew it was coming, so, eh.
— For some strange reason, it seems that Dave Trembley still hasn't decided between Guthrie and Trachsel for the Opening Day start. This is a giant no-brainer, isn't it?
— According to Miguel Tejada, "It was tough to be the losers every day."
— Say what you will about Melvin Mora, but if he's happy and content then I think it goes a long way towards keeping this season somewhere near respectable.