Sunday NFL Open Thread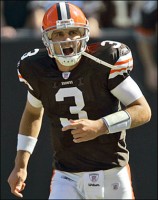 In thinking about today's game, a question occurred to me: have we reached a point where nobody can make the "dude, we should've kept Derek Anderson" argument anymore? Or would you still want him here either (a) starting ahead of Flacco or (b) backing up? It's academic, I know, but I find it interesting.
Anderson's full range of skills (or lack thereof?) will be on display today as the Ravens head to Cleveland to take on the Browns. Here's an interesting take on the challenges the Ravens present, from a Cleveland writer.
Division-wise, the Bengals host Jacksonville while the Steelers play down in Washington on Monday Night. I'll be at that game, incidentally, on the off chance anybody else is going and wants to meet up.
As I noted in the comments, I wasn't able to track down Justin last week for the game recap, and so I don't know if there will be one this week either. If you're out there, buddy, get in touch.
Finally, on an unrelated note: one of my favorite people on the West Coast is Tony Larson, artist/illustrator/designer extraordinaire. He's participating in MOvember to raise funds for the fight against prostate cancer. If you're interested, please give Tony a visit here and consider donating to his effort. And while you're there, check out some of his and his friends' work. Great stuff.
Enjoy the games…