The 10,000th Comment Is…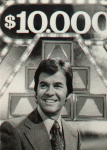 A couple of months back I mentioned that we were closing in on 10,000 comments and might very well get there by the end of the year. Then we hit a slow patch, and I more or less forgot about it. Today, though, I noticed that we actually passed the magic number already. We're currently at 10,100 and moving strong.
No doubt you're all wondering, though: who's the lucky commenter? What sort of wisdom did they impart (albeit unknowingly) to celebrate this milestone of milestones?
Brace yourself, for comment #10,000 is a winner. In many ways, it exemplifies the very nature of The Loss Column and explains its appeal:
sci Says:
December 11th, 2008 at 11:25 am

Bowling has some real characters. I won't call them "athletes."
Preach on, brother. Preach on.
In all seriousness, though, thanks again to all of you.