The Boy(s) Are Back In Town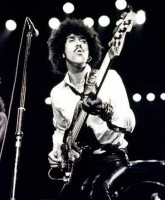 First and most important thing first: sincerest thanks to both Dan the Man and to all of you who participate with the site. Things didn't miss a beat in my absence, and that feels great. You are in fact "the Man," Dan.
That said, I'm back now if you'll have me. It was nice to get away for a week and recharge a bit. I would have checked in more but the power cable for my mac snapped off on Tuesday, meaning I basically had no access. Thus the explanation for no comments, no posts, etc.
It sucks, too, because this was an exciting week. The Blue Jays canned their manager, the Mariners realized just how screwed they got in the Erik Bedard deal, and oh yeah: the Orioles kicked ten kinds of ass.
I"m not sure how these guys do it but, man, what a team. I think the attitude of the nation (the non-Baltimore nation that is) can be summed up best by the Birds' spot at number 13 — ! — in the latest CBS Sportsline power rankings:
We really have little explanation for how long they have stuck around the .500 mark. Manager Dave Trembley has done more with less than almost any manager in baseball.
Damn right he has. But the explanation is actually pretty simple: Oriole Magic. No need to look deeper or further than that.
OK maybe it could stand a little more scrutiny, but for now I'd just like to bask in it before heading back to regular life.
The Birds will look to take the series today against the Brewers, with Garrett Andrew Olson on the hill against Manuel Alex Parra. One person who won't be joining them, however, is Freddie Bynum. He got designated for assignment today, leaving the shortstop duties to Alex Cintron and Oscar Salazar.
On another note, I hope at least a few of you made it out to the Dew Tour to see Baltimore native Bucky Lasek take first place in the skateboard vert competition. Want to know just how cool this guy is? Check it:
"It means a lot to me to come to my hometown and to put it down the way I did and to represent Baltimore the way it deserves to be represented. I'm just proud. I'm proud of Baltimore."
Exactly.